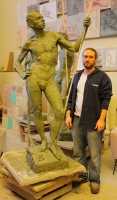 Born and raised in Manhattan, I attended Hunter College High School where my inclination for draftsmanship was supported by an accelerated arts program that introduced me to live models at an early age and led me to the Art Students League in my early teens. I graduated from Oberlin College with a foundation in Math and Biology, hungry for intensive instruction in artistic anatomy. Upon return to NYC, I continued studying with Michael Burbon at the Art Students League and took life drawing courses at Pratt and SVA until I discovered the Bridgeview School of Fine Arts, a small Russian art school in Queens. The style and discipline spoke to me. There I studied drawing with Sam Kudish, and sculpture with Larisa Dekermendzhi and Vitaly Patrov.

My 4 years working with these artists trained in the Russian Academic method began what I consider to be my formal training and brought me to attend two summer intensives in St. Petersburg at the Repin Academy, Russia's oldest art academy. The Repin Academy, founded by Catherine the Great and modeled after the École de Beaux-Arts of Paris of nearly three centuries ago, is among the last bastions of uninterrupted academic tradition left in the world.

During these two summers, I learned more than in all my previous years of study. My path became clear. I quit my jobs teaching art for Studio In a School and the Rubin Museum and, with no Russian language skills and only an overwhelming desire to be fully immersed in the true Russian Academic tradition, I relocated to St. Petersburg, made it through the exhaustive application and review process, and became the first American accepted to the sculpture department in over 15 years.

My intensive 5-year study at the Repin Academy has connected me to a living artistic tradition. The Russian system of instruction, with its heavy emphasis on composition, construction, and the anatomical underpinnings of idealized form via Greek antiquity, the Italian renaissance, and French neoclassicism, has been passed down through an unbroken chain of generations since the school's inception 250 years ago.

At Repin, I sought out the best professors in each discipline. I studied drawing with Evgeniy Michailovitch Kurkov and Vladimir Alexandrovitch Mogulevtsef. For sculpture, I studied with Ivan Borisovitch Korneev, Sasha Molev and Albert Serafimovitch Charkin, the dean of the sculpture department, former president of the Academy and of the Russian Artist Association, and the sculptor of many of the monumental sculptures now standing around Russia and China.

Under their tutelage I worked from the live model a minimum of ten hours each day, six days a week, for five straight years. I came to realize that these hours upon hours were teaching me more than to draw and to sculpt, but rather to see. Over time, I trained my eye to see the figure not in pieces but as a dynamic whole.

Using this lens, I have returned to NYC, sculpting, drawing, teaching, and continuing this rich tradition here in the States.